Testimonials
Eddie
The level of service provided by Rica's team has been invaluable in ensuring the entire process was thorough and complete, including the connection of all necessary services. "Eddie"
David & Nicole
We have always found Rica (the company manager) to be extremely professional, friendly and very helpful in finding accommodations that suit our needs in the Kobe area. "David & Nicole"
Daniel Rudolph
Rica and her staff at Core Eight have been a delight to do business with! They helped me find an apartment that I absolutely love. "Daniel Rudolph"
Daniel Green
Service, fees, communication – Naomi is fantastic and Core Eight are one of the best companies I've ever had the pleasure of working with. "Daniel Green"
Bruce
I would highly recommend Rica's services without reservation. "Bruce"
Gilmina Perretti
Being ex-luxury properties agent myself in the Hamptons, New York and Los Angeles, California, I was extremely impressed with Rica's in-depth knowledge of market trends and luxury inventory. Initially, I started working with Rica because she is both nationally and internationally recognized for her sales achievements and has a reputation as one of the most trusted and admired agents in Kobe real estate market. As her client now on numerous projects, when working with Rica, I can count on nothing less than a professional with an intimate knowledge of Kansai real estate who is devoted to serving all of her clients needs around the clock. With her astute problem-solving and hands-on approach, Rica is always looking for new ways to streamline the real estate experience for her clients. She has ability to thrive in one of the most technically and socially demanding markets in Japan. Paired with Rica's energetic and confident disposition, extensive real estate knowledge makes her a one-stop shop when it comes to buying, selling, renting, leasing, building, managing and flipping real estate.
Xavier
I contacted Core Eight via their website and within few days, my leased contract was signed for a beautiful apartment in Kobe. "Xavier"
Ms. Yasuda
コアエイト様とは、この度初めて取引させて頂いたのですが、そのスピーディーな対応、フットワークの軽さに驚かされました。 "Ms. Yasuda"
Paul & Yuko
For my 18 years here in Japan Rica has helped us find great rental places, even walking us through our first home purchase here in Kobe! "Paul & Yuko"
Luke Schleppe
I recently had the pleasure of selling my home in Kobe with Rica and her team at Core 8. I could not give a more heartfelt and sincere recommendation. My situation was full of all sorts of idiosyncratic details, buyer complications, doing business across international borders, and everything possible that would bog down a real estate sale. Other real estate companies, even ones I had a long relationship with, did not have the time nor the bother to assist me. Rica at CORE 8 immediately had a can-do approach, and broke down what was a very complicated transaction into simple, manageable steps for both me and the buyer. In my 15 years in Japan, through both home ownership and the rental for my small business, I have dealt with a large amount of real estate companies and their agents. Rica has them all beat, in every aspect. She was friendly, prompt, capable, and always available. Their service is just not seen in the Japanese real estate world and I would have been happy to have paid double for what was such a smooth and pleasant experience. 5/5 stars!
Julian & Akiko
We wanted to pass our thanks onto you for not only finding such a amazing home for us, but being able to make the whole process so smooth. "Julian & Akiko"
Jahan Shah
As a foreign resident living in Japan, I was looking for a real-estate agency that could easily communicate in English and understand my business requirements for property investment. The Core Eight 8 real-estate agency based in Kobe provided exactly what I was looking for, and in fact, exceeded my expectations. "Jahan Shah"
Julia
Rica understood what kind of accommodation I was looking for and not only found me the perfect apartment but also gave helpful tips around life in Kobe. "Julia"
Marissa Spennato
Naomi and the entire Core Eight team are an absolute pleasure to work with, and made the moving process so much less complicated! They are extremely responsive to any questions and concerns one may have. Naomi helped me find a wonderful apartment that fit my needs, and was very patient with all my requests along the way! If anyone I knew was looking for a new housing arrangement, I'd definitely recommend Core Eight without any hesitation!
Kominka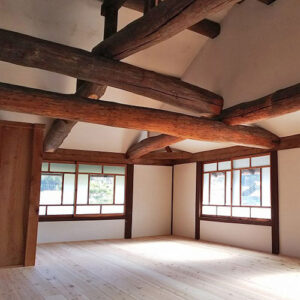 Core Eight is now associated with Nakagawa Jyuken and selling KOMINKA - old wooden traditional houses built in a traditional Japanese architectural style using timeless building techniques and natural materials.
Okuike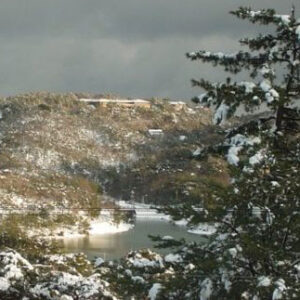 Okuike is a world unto itself. Surrounded by national forests on all sides, yet only a 15-minute drive to the conveniences, restaurants, and culture of the greater Kobe area, Okuike offers an almost retreat-like atmosphere of serenity and solitude that attracts many who desire their own secluded oasis.